Portfolio |
Museum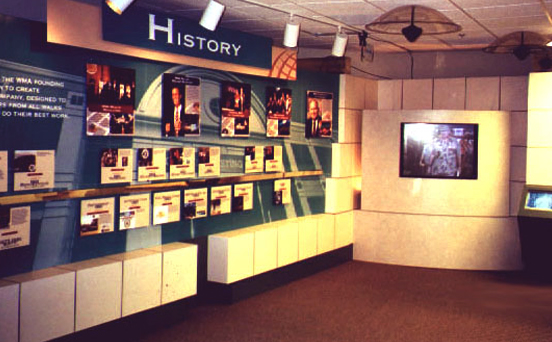 WMA Visitor Center & Dept. Signage

WORLD MARKETING ASSOCIATION
WMA, one of the nations largest financial services firms, scheduled the grand opening ceremonies for their new 100,000 SF Atlanta headquarters in four months. They wanted to showcase their corporate story and growth within a theater and a visitor center incorporating multimedia, interactive kiosks and a visitor tour. Historic photos, corporate awards, artifacts and personal success stories would be displayed.
Project challenges included the awkward 1,500 SF "L" shape space interrupted by columns and the project needed to be complete in 120 days. BANG! Creative used a fast-track process to meet the deadline. We designed a modular look for each display theme and initiated the fabrication on the large wall components and multimedia stations that were built around approved hardware systems provided by others.
We proceeded to design theme stories and graphics for each component. The final color scheme and branding was integrated to department signage throughout the building. Upon completion of the major structures, the artifacts and multi-media were installed. Nearly 100 large portraits and the building signage were the last elements to be installed on the day before the grand opening.