Portfolio |
Museum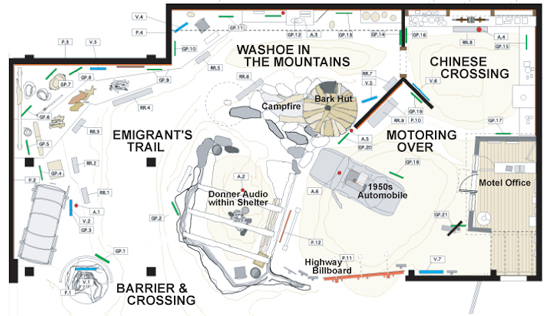 The Donner Memorial Visitor Center

DONNER MEMORIAL STATE PARK
The park is named in honor of the Donner Party who suffered extreme hardships during their winter encampment along the Emigrant Trail in the mid-nineteenth century. Nearly 800,000 people traveling Interstate 80 [a main route over the Sierra Nevada mountain range between California and Nevada] stop to see the existing visitor center and park.
Working with State Parks, we developed the Interpretive Plan and the final designs for the new 9,000 SF Donner Memorial Visitor Center in Truckee, CA. Numerous client reviews, public and stakeholder meetings were conducted including interviews with members of the Washoe Band.
The 3,000 SF exhibit area will expand the interpretive focus beyond the ill-fated Donner Party encampment that resulted in suffering and tragic loss of life. The first exhibition will focus on the tension between barrier and crossing. A 14' high rockscape will great visitors at a dramatic moment hoisting their goods over a mountain barrier. This same barrier creates an enclosed shelter for docent led group discussion and multi-media experiences.
Visitors will find the barrier and crossing theme woven throughout the four other main exhibit areas. Human stories provide the theme for exploring tension between barrier and crossing: emigrant experience and Donner Party tragedy; the Washoe and their survival in the face of the Euro-American invasion, the Chinese and construction of the transcontinental railroad; and finally the American adventure with the open road.
Research and planning included exterior interpretive site opportunities including the monument and adjacent grounds.