Portfolio |
Museum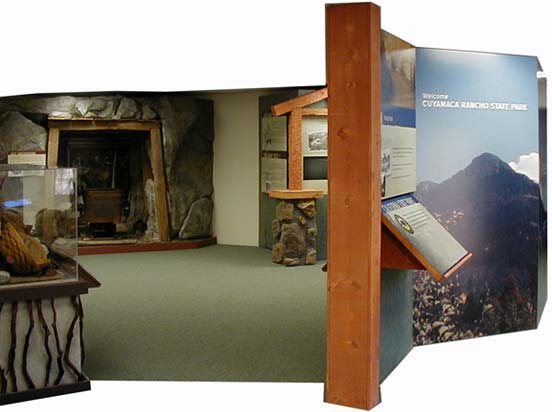 Cuyamaca Rancho Nature Center

CUYAMACA RANCHO STATE PARK
An hour east of San Diego, this 25,000-acre wilderness preserve, received a new Nature Center, gift shop and administrative offices. The (1,044sf) Nature Center explores the sites cultural, historical and recreational significance. We developed themes on the Geology, Native American, Immigration, Gold Rush, the CCC, and Natural Habitats.
From the habitat stonework, branch details on the Kumeyaay case, the mine cave and rough-hewn timbers of the CCC, each area is unique. An audio program on the CCC and ambient sound tracks enhance the visitor experience with sounds of digging and tumbling rocks or the natural sounds of animal, bird, rain and streams. Tactile animal sculls, footprints and trail remnants along with interactive flipbooks engage visitors.
All photos had 50s-era scalloped edge treatment in keeping with the interpretive theme of "A Walk Through Time".
Multi-media
Cuyamaca: Rain Behind - AUDIO

CUYAMACA RANCHO SP
Rain Behind (120 sec.) - Standing by a gentle stream, light breezes carry the sounds of small creatures, rustling leaves and the sounds of indigenous birds in the meadow. Approaching storm clouds push lightning and thunder closer, bringing a brief rain shower, and runoff to the now rushing brook. (Cuyamaca is a Native American term for "rain behind")
Cuyamaca: Morning Miner - AUDIO

CUYAMACA RANCHO SP
Morning Miner (60 sec.) - A miner heads from the entrance into the cold, dark and wet mountain. He lights a match to burn an oil lamp for light, then begins to dig and chisel rock, shoveling the tailings into a mine cart.