Portfolio |
Museum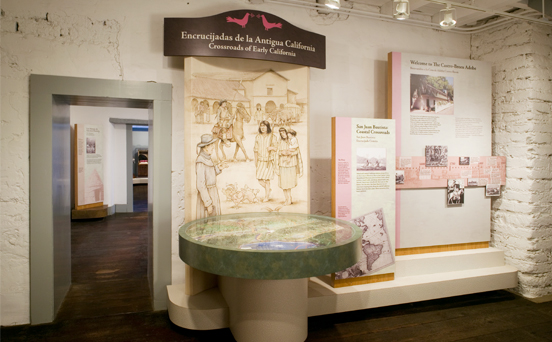 Castro-Breen Adobe V.C & Audio Video

SAN JUAN BAUTISTA SHP
San Juan Bautista SHP, off Hwy 101 in the central coast, is a nationally recognized historic landmark. It was once a vital crossroad for travel between northern and southern California.
Working with State Parks, stakeholder and docent groups, BANG! Creative refined the interpretive plan, designed, fabricated and installed 2,500 SF of engaging, tactile exhibits. A dimensional topographical map and touchable reproductions mounted on raised platforms bring the historical themes to life. There are (7) featured stations with 2D profiles of historic family members and richly illustrated canvas mural backdrops within four 1st-floor rooms.
Subtle graphic cues change as Jose Castro's family [Mexican Period] and John Breen's family [California Period] is told. A period living room and 2nd-floor bedrooms display additional family artifacts and historic furnishings. We scripted and produced the House of Two Cultures, a 6-min. introductory video.
A House To Bridge Two Cultures - VIDEO
A House to Bridge Two Cultures (5:50 sec) overviews life in San Juan Bautista in the 1840s that centered on the mission and the plaza. Though isolated from Mexico and the United States, San Juan Bautista was increasingly connected to a growing trade at the intersection of the El Camino Real and Pacheco Pass that linked the coast with the Great Central Valley.
The adobe (now on the Historic Register) was the home of Modesta and Jose Antonio (the Prefect of San Juan Bautista, would later become Governor of Mexican California) Castro. He generously offered the penniless Margaret & Patrick Breen (of the Donner Party) family shelter in his adobe.
Soon after, the Breen's eldest son left home to seek his fortune in the newly discovered gold fields. John struck it rich and returned with enough gold to purchase the adobe and 400 acres of land. Two central California-region families, (one Mexican, the other Irish Catholic Immigrants) personal experiences parallels the cultural California changes (1839 - late 1800s) in a 6-minute video.