Portfolio |
Museum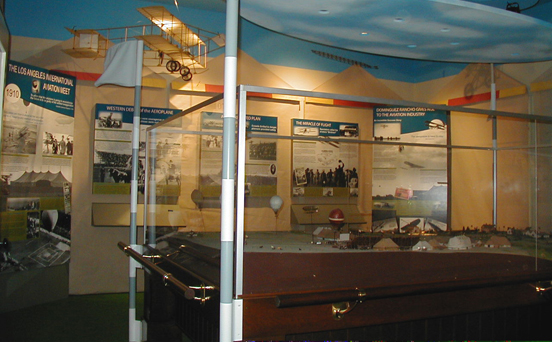 1910 Aviation Meet

Dominguez Rancho Adobe Museum
The Dominguez Adobe Rancho heritage dates back to the first Spanish land grants in America. The first time an airplane flew west of the Mississippi River, it was from the Dominguez property. We designed, fabricated and installed a feature exhibit to tell the story of the 1910 Aviation Meet and the Early Birds aviators within two rooms of the historic adobe structure.
We designed a multimedia light and audio experience to showcase an existing 6'x10' model and to connect the visitor with the time period and the events. Sequence lighting of the enormous model, decor elements to suggest exterior tents, green carpet [grass] and blue paint [clouds & sky] completed the themed environment for mostly middle-grade school children.
Audio Storyboard: The Early Morning Reporter (a fictionalized account of reported facts)
Main Character: A young news reporter is late to cover the 1910 Aviation Meet.
Setting: The crowds of mostly adult couples have traveled by steam and electric trains from Los Angeles to the Dominguez Junction. They are excited; on the ½-mile walk to the site, anticipation builds. The rain cleared, a morning sun shines bright in the blue sky across acres of open fields. There's enormous energy, every one is festive; boisterous talk, and laughter about the coming spectacle abounds. It is Monday, Jan. 10, 1910.