Portfolio |
Museum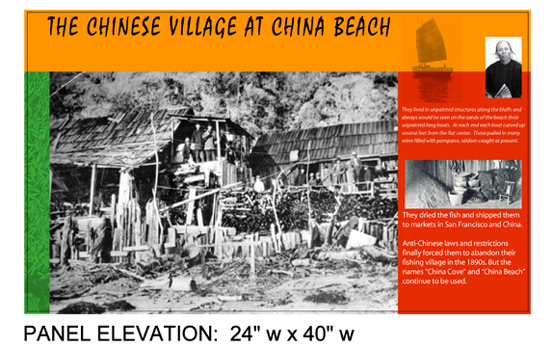 Panels & Interactive Touch Screen

NEW BRIGHTON STATE BEACH
The picturesque setting on Monterey Bay south of Santa Cruz, features a wonderful stretch of beach, picnic areas, swimming, fishing and a nearby forest of Monterey Pine and Coast Live Oak.
New Brighton, once known as China Beach, was the site of an early Chinese fishing village during the 1870s and 1880s. The village inhabitants proved invaluable in the building of the California railroad, and provided Santa Cruz with fish, produce, laundries, chefs and servants.
We remodeled the multi-media theater area to feature a touch-screen interactive that guided visitors to recreational opportunities at 20 Santa Cruz District parks.
A Chinese Village Panel complemented the existing visitor center colors and revealed stories of the Chinese at China Beach. Five Wayfinding Panels - Railroad History, the CCC, Camping through the Ages and the Sooty Shearwater Migration were oval shaped with a green patina to blend within the camp setting and not compete with the ocean view-sheds.