Portfolio |
Museum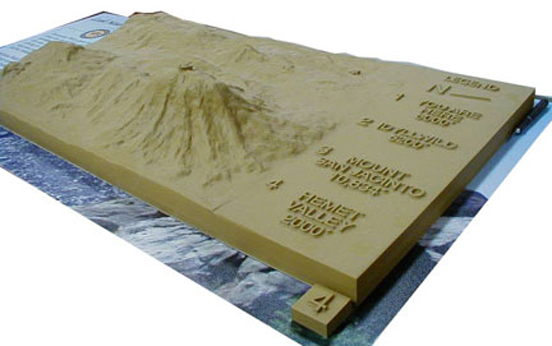 Tactile Wayfinding Exhibits

SAN JACINTO STATE PARK
The deeply weathered summit of Mount San Jacinto stands 10,834 feet above sea level, and is the second highest mountain range in Southern California. A two-hour drive from Los Angeles, the mountain's magnificent granite peaks, sub-alpine forests, and fern-bordered mountain meadows offers hikers and backpackers a unique opportunity to explore and enjoy a scenic, high-country wilderness area.
California Parks converted an existing hiking trail in the Stone Creek Campground into a universally accessible, three-quarter mile loop trail. The trail has been widened, graded and surfaced to meet ADA standards. As part of the project, interpretive trail panels were designed to meet and exceed current DPR accessibility guidelines.
We fabricated a tactile exterior topographical map, a trailhead orientation panel and (5) interpretive panels with tactile plant elements to enhance the experience of visitors with limited mobility / vision.