Portfolio |
Museum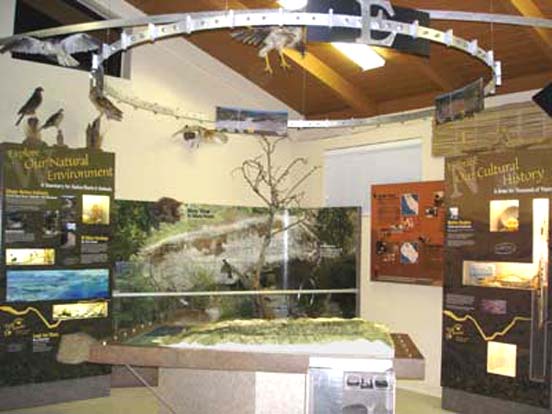 El Moro Backcountry Visitor Center

CRYSTAL COVE STATE PARK
Located north of Laguna Beach, this 2,400-acre preserve features a dozen backcountry nature trails, numerous habitats and panoramic views of the Pacific Ocean.
El Moro Canyon hosts visitors seeking outdoor hiking, biking, camping, wildlife and natural habitat viewing. To expand visitor awareness, interest, and sensitivity to historical, culture and natural features we designed a small 520 SF nature center. Because the park has restricted trails due to cultural sites and fragile habitats we wanted to educate visitors on trail preparation, etiquette in wilderness, multi-use trails, wild plant and animal issues.
An 8' diameter thematic compass ring with bird silhouettes and panoramic vista photos hang over a park topographic model. Four vertical monuments arranged in North, South, East and West orientation convey a welcome message and interpretive themes to visitors. Welcome, Recreation, Habitats & Cultural History monuments feature a "kids zone" and secondary story panels.
Interactive experiences include compass and map skills. A diorama with numerous animal mounts creates a dynamic focal point. Another area contains one of the first off-road mountain bike prototypes and highlights the history and growth of mountain biking in Southern California.