Portfolio |
Museum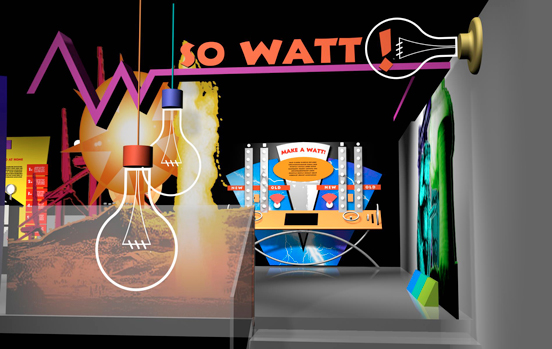 SO WATT! An Illuminating Look at Energy

R. H. FLEET SCIENCE MUSEUM
The highly engaging and interactive exhibit features six (6) types of energy generation. Visitors are introduced to the basic terminology associated with energy and the technologies used to create electricity. The exhibits introduce energy conservation interactives with special emphasis on solar energy and the new photovoltaic panels installed on the roof.
The Make A Watt! exhibit allows kids to generate electricity and compare traditional incandescent bulbs against compact fluorescent bulbs. The Watts In The Sun! exhibit challenges kids to angle solar panels to maximize energy generation. A variable fan floats colored balls allowing each station to compare their skill level.
Watt I Can Do! compares high-efficiency improvements to home appliances and fixtures, and helps compare the impact of those adjustments. Watt About Me! is a touch screen interactive, it explains the solar panel roof project, and shows current / total generation.